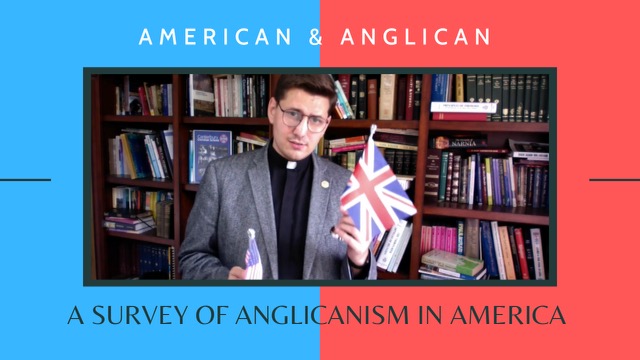 American and Anglican: Anglicanism as the Founding Faith of the Colonies and the American Republic
Did you know the first Communion service in the New World happened on the West Coast using the Anglican Book of Common Prayer? What church did American members of the Church of England (like George Washington) belong to after the English lost the Revolutionary War? How did Anglicanism become the Episcopal Church in the United States?
Starting with Sir Francis Drake, this video is a survey of the significant Anglican leaders that helped forge America's religious identity from the pre-colonial period through the start of the 20th century.
1:26 – Sir Francis Drake 3:10 – Jamestown (1607) 4:50 – Thomas Dale & Dale's Laws 6:30 – The invention of the Vestry 10:00 – Pocahontas 12:00 – Assembly of Burgesses 15:10 – Plymouth Colony (1620) 21:30 – Quakers 23:30 – John Hooper 28:27 – Charles II & Claredon Code (1660s) 30:30 – King's Chapel/Christ Church 30:46 – William's Rhode Island 32:00 – Connecticut and Yale College 34:00 – Samuel Johnson & Colombia College 34:45 – New York and the Dutch 40:00 – Anglican Commissaries 43:00 – Society for the Propagation of the Gospel 48:00 – Revolutionary War 52:00 – Post-Revolutionary Anglicanism 54:15 – Maryland Conference (1780) 56:36 – Samuel Seabury 1:01:00 – Philidephia Convention (1785) 1:04:30 – William White and Samuel Provoost 1:07:00 – American Constitution 1:12:30 – Weak Post-War Church 1:12:30 – Weak Post-War Church 1:16:00 – Alexander Griswold 1:22:00 – John Henry Hobart 1:29:45 – Richard Channing Moore 1:34:50 – Philander Chase 1:44:00 – Missionary Bishops (1835) 1:44:06 – Jackson Kemper 1:47:30 – James Lloyd Breck 1:51:15 – James Hervey Otey 1:55:20 – William Ingraham Kip 1:57:00 – "Bishop of All Outdoors" 2:01:00 – Ecumenism 2:03:00 – The Anglican Communion 2:05:35 – The Lambeth Quadrilateral