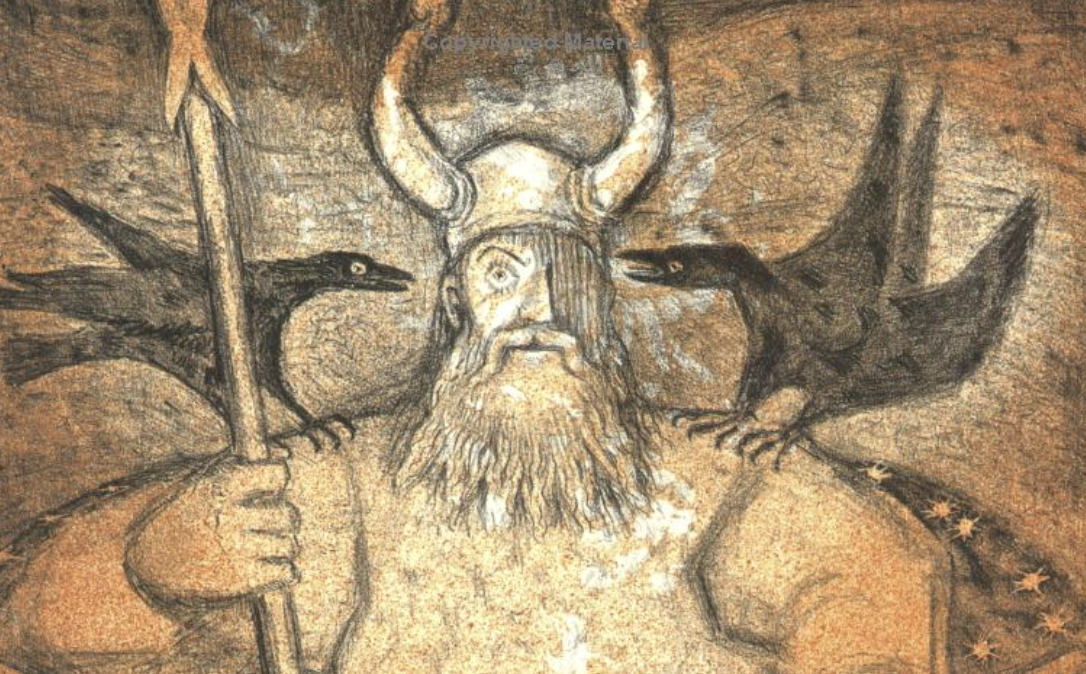 Intro to Norse Mythology
I've always had a particular fondness toward the Norse legends because of my own family history. My 2nd great-grandfather Erick Karl Lind emmigrated at the end of the 19th century from Sweden. He was from Hubbo, a small church village in the province of Västmanland, just north of Västerås. My grandfather kept this Nordic and Scandinavian heritage alive by naming my mother Thora Lind. (I also have a second cousin with the name Loki.) Therefore, I had heard about about Thor and Odin long before Marvel ever made them into household names.
There's a great deal of cultural and academic value in studying the Norse Myths — whether we pay attention to the various theological similarities to Christianity (especially the blot sacrifice concepts), the general linguistic heritage that exists between English and Old Norse, and the historical impact the Vikings had on European Christendom. The reasons for studying the Norse are as compelling as are the arguments for their Roman and Greek counterparts and help complete one's Classical Western Education. (For any Christians with English and Scandinavian or "Anglo-Saxon" heritage, even more compelling!) Any fan of J.R.R. Tolkien is likely familiar with how the Lord of the Rings drew many of its influences from the Norse pantheon.
I often quoted G.K. Chesterton's Everlasting Man to be the best resource for developing the proper lens for understanding ancient mythology:
"These are the myths: and he who has no sympathy with myths has no sympathy with men. But he who has most sympathy with myths will most fully realize that they are not and never were a religion, in the sense that Christianity or even Islam is a religion. They satisfy some of the needs satisfied by a religion; and notably the need for doing certain things at certain dates; the need of the twin ideas of festivity and formality. But though they provide a man with a calendar they do not provide him with a creed. A man did not stand up and say 'I believe in Jupiter and Juno and Neptune,' etc., as he stands up and says 'I believe in God the Father Almighty,' and the rest of the Apostles Creed. Many believed in some and not in others, or more in some and less in others, or only in a very vague poetical sense in any. There was no moment when they were all collected into an orthodox order which men would fight and be tortured to keep intact. Still less did anybody ever say in that fashion: 'I believe in Odin and Thor and Freya,' for outside Olympus even the Olympian order grows cloudy and chaotic. It seems clear to me that Thor was not a god at all but a hero. Nothing resembling a religion would picture anybody resembling a god as groping like a Pygmy in a great cavern, that turned out to be the glove of a giant. That is the glorious ignorance called adventure. Thor may have been a great adventurer; but to call him a god is like trying to compare Jehovah with Jack and the Beanstalk. Odin seems to have been a real barbarian chief, possibly of the Dark Ages after Christianity. Polytheism fades away at its fringes into fairy-tales or barbaric memories; it is not a thing like monotheism as held by serious monotheists. Again it does satisfy the need to cry out on some uplifted name or some noble memory in moments that are themselves noble and uplifted; such as the birth of a child or the saving of a city. But the name was so used by many to whom it was only a name."
Perhaps a future project of mine ought to be to develop an elementary level outline and study guide for D'Aulaires' Book of Norse Myths.
Introductory Materials D'Aulaires' Book of Norse Myths (160 pgs)

From the publisher: The Caldecott medal-winning d'Aulaires once again captivate their young audience with this beautifully illustrated introduction to Norse legends, telling stories of Odin the All-father, Thor the Thunder-god and the theft of his hammer, Loki the mischievous god of the Jotun Race, and Ragnarokk, the destiny of the gods. Children meet Bragi, the god of poetry, and the famous Valkyrie maidens, among other gods, goddesses, heroes, and giants. Illustrations throughout depict the wondrous other world of Norse folklore and its fantastical Northern landscape.
Introduction to Norse Mythology (25 min.) by Jackson Crawford

An introduction to the basic facts, sources, gods, and beliefs of Norse mythology. Dr. Jackson Crawford is Instructor of Nordic Studies and Nordic Program Coordinator at the University of Colorado Boulder (formerly UC Berkeley and UCLA). He is a historical linguist and an experienced teacher of Old Norse, Modern Icelandic, and Norwegian. Visit JacksonWCrawford.com
Norse Mythology Family Tree by Useful Charts on Youtube
Not only does it cover the family tree of Norse gods and other mythological creatures, it also features a map of the nine realms of Yggdrasil (the world tree), a guide to the runic alphabet, and information on the gifts of the dwarves.